Presented By:

A Day of FUN:
For the last 25 years, hundreds of families have gathered to walk and run in support of CURE. Lauren's Run and the CURE Childhood Cancer Annual Picnic truly brings the community together, with families, schools and companies forming race teams to support our fight. After the race, Lauren's Run participants, as well as families diagnosed with childhood cancer, join together for the CURE Annual Picnic.
This is a day unlike any other! Dozens of games, prizes, elaborate face painting, enormous inflatables, music, arts and crafts, a full lunch, and so much more. Lauren's Run is a Peachtree qualifier!
Please Note: Only pre-registered runners will be timed. Walk-up (day-of) registrants will not be timed.
Registration:
Adult 5K & 2K
$35 Advanced Registration ($45 on race day)
Children
(12 & Under) $25 for 5K, 2K or Tot-Trot
Virtual Runner
$40 (we'll mail you a t-shirt after race day)
Picnic
Included with race entry fee
Online registration ends Friday, June 12, 2020 at 12:00 p.m.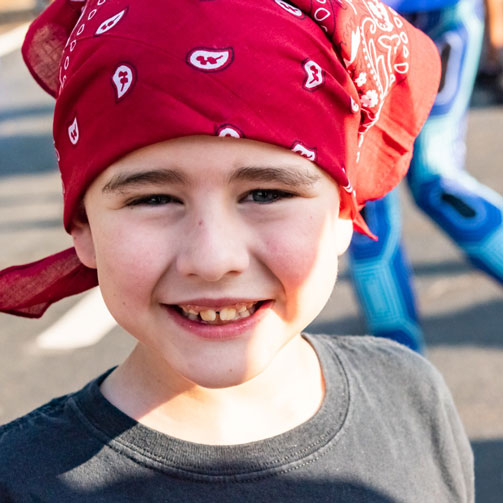 About Lauren's Run
Lauren's Run was founded in 1992 in memory of Lauren Zagoria, a sweet two-year-old girl from Atlanta with big, golden curls. Lauren's Run continues in her memory and in memory of Lauren Kochman, a beautiful brown-eyed girl who lost her battle with Neuroblastoma at only 20 months old.
Since it's beginning, Lauren's Run has raised more than $4.1 Million for pediatric cancer research.
Register
Find a Participant or Team
Schedule of Events
Race Day Registration & Number Pick-Up
Tot Trot (Ages 5 & Under)
* Childhood Cancer families attending only the picnic do not need to pre-register for Picnic.
Top Teams
9
Huddy The FireFIGHTER
$120.60
"Robert wanted a cure to be found so badly and knew funding research was the best route. Even though he was suffering and fighting for his life, Lauren's Run was a fun way for him to get his friends, family, and even strangers involved. He loved a good competition and it was absolutely one of his favorite days of the year."
"Every year I love seeing the kids with cancer enjoying such a fun event with their family and friends. The event allows everyone to come together, support the childhood cancer community, and raise important research dollars that ARE making a difference!"
"Our Lauren left a beautiful legacy after her short life. To see the healthy children and their families join forces with patients currently in treatment and run and play together at Lauren's Run is the most heart-warming and meaningful experience of our lives."