Due to COVID-19, the 26th Lauren's Run and the CURE Childhood Cancer Annual Picnic will be a VIRTUAL Weekend Challenge! Join us for FITNESS, FAMILY FUN and FUNDRAISING.
Fitness: Lace up your shoes, download your race bib and choose your distance. Run your own race, at your own pace, and time it yourself. 5K runners, submit your time and distance for a chance to win a medal.
Family Fun Challenge: Gather your family and jump into our challenges together. We will announce the 4 challenges and all the details of guaranteed family fun during our Facebook Live at 6pm EST on June 12th. You can do all or just a few. The more you do, the more chances you have to win a prize!
Fundraising: Help raise critical funds to advance treatments for kids with cancer and support families. Create a fundraising page, tell your friends and family why you are participating, and ask them to support you with a donation. Win great prizes!
Register by midnight on Sunday, May 31 to get your t-shirt(s) in time to wear during the weekend challenge.
Registration:
Fitness Challenge $35 (includes 1 race t-shirt; Medals awarded to top 5K finishers
Family Fun Challenge $50 (includes 2 race t-shirts, access to Family Fun Challenge details and eligible for prizes)
Fitness+Family Challenge $100 (includes 4 race t-shirts, eligibility for 5K medals, access to Family Fun Challenge details and eligible for prizes)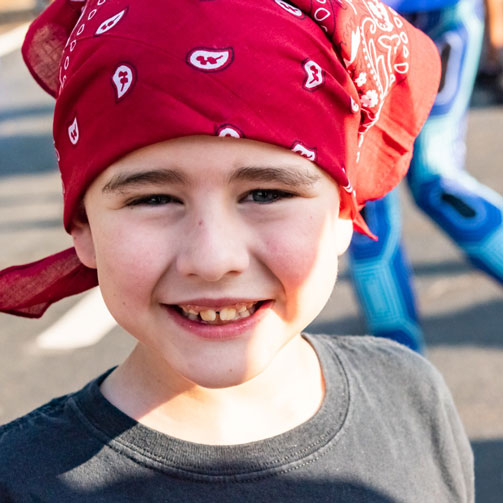 About Lauren's Run
Lauren's Run was founded in 1992 in memory of Lauren Zagoria, a sweet two-year-old girl from Atlanta with big, golden curls. Lauren's Run continues in her memory and in memory of Lauren Kochman, a beautiful brown-eyed girl who lost her battle with Neuroblastoma at only 20 months old.
Since it's beginning, Lauren's Run has raised more than $4.1 Million for pediatric cancer research.
Register
Find a Participant or Team
Top Teams
1
Charlie's Fight Club
$12,034.24
2
Robert The Great
$7,085.05
3
The Lovett Lions
$5,354.50
9
Caroline's Crusaders
$2,190.05
10
Team Bailey & Kylie
$1,669.20
"Robert wanted a cure to be found so badly and knew funding research was the best route. Even though he was suffering and fighting for his life, Lauren's Run was a fun way for him to get his friends, family, and even strangers involved. He loved a good competition and it was absolutely one of his favorite days of the year."
"Every year I love seeing the kids with cancer enjoying such a fun event with their family and friends. The event allows everyone to come together, support the childhood cancer community, and raise important research dollars that ARE making a difference!"
"Our Lauren left a beautiful legacy after her short life. To see the healthy children and their families join forces with patients currently in treatment and run and play together at Lauren's Run is the most heart-warming and meaningful experience of our lives."