About the Huntsman 140
The "Loneliest Road in America" just got a little less lonely.
Each June since his Stage IV head and neck cancer diagnosis in 2001, Jeff Warren sets off on a journey via his Litespeed Siena from his hometown of Reno, Nevada, to the steps of Huntsman Cancer Institute, where he endured the rigors of what he calls "slash, burn, and poison" (clinically known as surgery, radiation, and chemotherapy). After riding for four days from Nevada, Warren will is joined by hundreds in the community for the last 140 miles in the "Huntsman 140." The ride was opened to the public in 2011, and is a ride for survivors and supporters, a great LOTOJA training ride, and a fundraiser in honor of all cancer patients.
"Cancer is not a solo act," Warren said. "This ride is a metaphor for the cancer journey. Some parts of it are grueling, when you're pushed to your limits, and there are sections that, like cancer, are extremely lonely, but you still have family and friends cheering for your success."
Together we accomplish more! Join us for the Huntsman 140 for any distance. Cyclists and teams can register for a $75 registration fee, cyclists will receive a fundraising web page, a cycling jersey once they reach $500, on-course support, feed zones, and a finish line celebration at beautiful Fort Douglas.
100% of those donations fund cancer research at Huntsman Cancer Institute.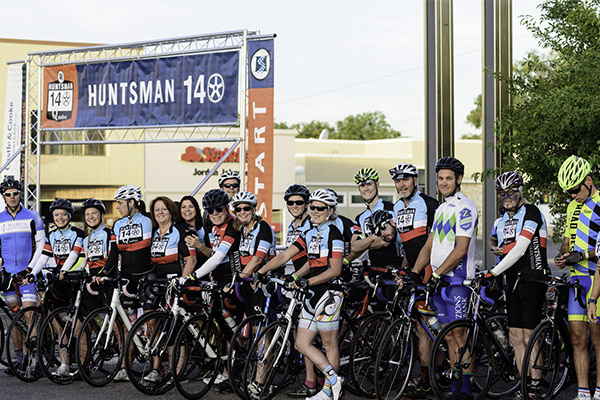 Train together, fundraise together, and find a cure for cancer together.
In addition to knowing your hard earned fundraising dollars are going straight to cancer research at Huntsman Cancer Institute, registering for the Huntsman 140 has its advantages. Through partnerships with local races, Huntsman Cancer Foundation is able to offer you team training for riders of all abilities and incentive items throughout your fundraising journey. Click here to learn more about the Huntsman Heroes Cycling team.